Product Description
Crestron Modules are available for WolfPack and WolfPackLite Modular Matrix Systems. HDTV Supply is pleased to announce that we have recently added Crestron Modules to support our WolfPack, WolfPackGold and WolfPackLite Modular Matrix Systems family of Matrix Systems that uses the RS232 as the control method. Setting up a Crestron system is usually not a DIY job and requires that you may have to go through an authorized Crestron dealer so contact Crestron for one in your area. You now have access to over 2,000 Different WolfPack and WolfPackLite Modular HDMI Matrix Switchers to choose from with Crestron Modules supporting multiple-chassis sizes.
NOTE: If you are ordering these for a past matrix order please give us that order number so we can make sure they are compatible with the matrix that you ordered. Failure to do so will delay your order. Call us if you have any questions.
Most of HDTV Supplys WolfPack™ and WolfPackLite Modular Matrix Systems are capable of being controlled by various means via a Crestron system. The most reliable method is RS232 serial communication provided by the ports of nearly every Crestron processor. If your system does not have serial ports, they may be added(at a cost) to provide control to your HDTV(Wolfpack) matrix system. The modules were written, regression tested and run on models including PAC2m, Pro2, CP2e, AV2, and were site tested using a QM-RMC, an iPad mini and an inexpensive WiFi router and the modules will work for new and legacy Crestron systems. The site testing component is a control system that included the modules(driver) and macros with interface and code needed in front of the module/macro to simulate multiple control system(s) to demonstrate a proven product that HDTV Supply can endorse for you the consumer.
The SIMPl+ modules and macros provide all the functions of the Front Panel buttons and/or what the IR remote can do also, for a new or existing system. Everything except actuating the power switch that only a human hand can do. Configured properly, by a certified Crestron programmer, a Crestron control system typically is run at a home or commercial setting, but can also be accessed remotely through the internet, at an additional cost.
You now have access to over 2,000 Different WolfPack™ and WolfPackLite Modular Matrix Systems Modular HDMI Matrix Switchers to choose from with Crestron Modules supporting multiple-chassis sizes:
WolfPack Modular Matrix Systems:
4x4
8x8
9x9
16x16
18x18
36x36
48x48
56x56
64x64
72x72
80x80
160x160
WolfPackLite Modular Matrix Systems:
8x8
16x16
32x32
64x64
These WolfPack HDMI Matrix Switchers with Crestron Modules feature:
1 and 4-Port 4K HDMI In & HDMI out cards
4K @ 30 Hz & HDCP 1.4 compliant
IR Remote, Software, RS232 & Front Control
From 9 to 16-Preset Scenes to Save/Recall depending upon matrix size
Some with HDMI to CAT6 Extenders
Some with Video Wall Functions
Optional Color 7" Dual Displays
Crestron Modules on 4x4 to 160x160
The Crestron Module controls only the Ins and Outs of the matrix and is what most users buy. The Crestron Modules are licensed to each matrix order and must be ordered again when another matrix order is placed. They may only be purchased when ordering a matrix system from us.
Call us at 833-WOLFPACK for more information and you can get them directly from Rick Meek at 763-257-6667 or RickAllen@RAMWerx.com
Why not buy a WolfPack HDMI Matrix Switch with Crestron Modules today?
Our WolfPack Matrix Switchers with Crestron drivers have options to support:
1080p, 4K/30, 4K/60 & Seamless Designs
Many with built-in Video Wall Processors
Cards with DIP switch scaling
HDMI input cards & output cards
HDBaseT input cards & output cards
HDBaseT POE Receivers
iOS/Android, IR Remote & WEB GUI Control
Front Panel Touch Screen or Buttons
Other cards, like SDI, VGA, Fiber, etc.
EDID management & RS232 port
Embedded audio in & out
Why not buy an HDMI Matrix Switch with Crestron Drivers today?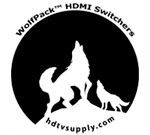 Reasons To Buy an HDTV Supply WolfPack Product
Q: Who do I contact?
A:
See the below:
RickAllen Meek
Crestron Certified Programmer
0101QuidCodePro
P.O. Box 133
Zimmerman, MN 55398
763-256-6667(O)
www.quidcodepro.com
Q: Does Crestron have the ability for IP connection or only RS232 to the switch and controller?
A: IP is an option, although RS232 is more discreet and reliable. Our Crestron program itself would need to be modified and that would be up to the programmer, like myself and the customer(end user) and their needs. If IP control is desired, they really should have an independent LAN for that.
Q: What are the setup steps?
A: Connect to matrix switcher of choice (same family of serial strings) and use the last demo for "Key Entry" control and you can go all the way to 160X160.
The scene save and recall only set to 9. Source to All will work to the limit of switcher & readout will show ERR if you exceed limit. There is no way to change the program other than use the method above.
Q: What is the process for ordering and configuring a Crestron module?
A: The Crestron module would be inserted into SIMPL program and compiled to a dedicated Crestron control system processor tied to a control panel (typically an iPad). The panel is associated to the control program on the Creston processor through a Wifi router to complete the "button pushes".
Beyond that, would need to know how the matrix switcher is employed ( presentation, operations command center, dedicated destination schema, etc.) to determine simplicity or complexity of programming needed. The module itself is straightforward and switches according to the desired programming in front of the module. Basically it does what it is told to do, via one-to-one, one-to-many, scene setups, recalls and so forth.
Other Details
1:
Crestron RS232 Modules
2:
Uses WolfPack & WolfPackLite Matrices
4:
Uses 1,000's of Preconfigured Matrices
Customers also viewed